Green Ink Writers' Gym welcomes writers of all levels of experience. Our creative fiction and non-fiction workshops, courses, coaching and editorial support provide the skills, confidence, technique and inspiration to help you enhance, enjoy and explore your writing world. Whether you're writing for pleasure or publication, and whether you're closer to 'first draft' or 'the end', every writing workout will exercise your voice and develop your story. To discuss the right course to fit you, your writing and your life, get in touch here!
Green Ink Sponsored Write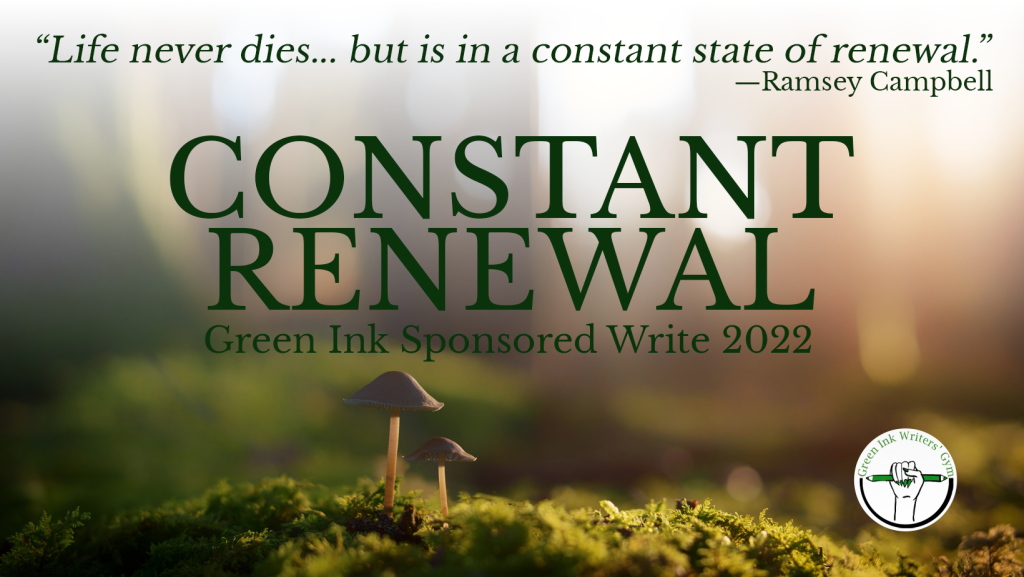 Green Ink Sponsored Write is an annual fundraising event for Macmillan Cancer Support. Every year, a group of published authors and Green Ink Writers' Gym students write on a theme inspired by Macmillan Cancer Support's work: quality of life, for everyone affected by cancer. Reflecting that mission, writers are sponsored for their time, not their word-count. This year, the theme (selected by horror writing royalty and living legend Ramsey Campbell) is 'Constant Renewal'. Please help the writers help Macmillan here.
Green Ink Writers' Gym's founder Rachel Knightley began the Sponsored Write in 2010, with playwright James Graham and novelist, actress and No More Page Three campaign director Lucy-Anne Holmes. Other Sponsored Writers have included Kim Newman, Tony Bradman and Naomi Wood. The 2022 Green Ink Sponsored Write will be announced in August. After the writing day of 10.30am- 5pm (with an hour's break for lunch, of course!), the writers then have 24 hours to edit their work, then the work is made into an anthology, designed by WhiteSpace and sent to all our sponsors. The sponsored writers for 2022 are Stephen Bermingham, Charlotte Bond, Alex Davis, Sarah Feazey, Paul Finch, Shane Finn, Aimee Foster, Sophie Hannah, Marianne Izen, Penny Jones, Roz Kaveney, Rachel Knightley, Nic Lamont, Stephen Laws, Hanne Lee, Lisa Morton, Katharine Orton, JJ Shippen, Greg A.Smith and Jennifer Steil. Anthology design is by Steve J. Shaw of Black Shuck Books. 2021 raised £3493 (over £4000 including gift aid). In 2020, we raised £3713. Please help the writers beat those totals!
Your Personal Trainer
Dr Rachel Knightley is an author of fiction and non-fiction and a member of the International Coaching Federation (ICF). She formed Green Ink Writers' Gym in 2014, having found most people in the writing groups she attended always left with good intentions then did little in between! Like the physical gym, Rachel wanted to help fellow writers develop strategies to make, and keep, writing a regular, healthy exercise routine. She leads a team of highly experienced writers, performers and coaches delivering communication and performance training through writing, speaking and confidence-building for all ages, industries and levels of experience.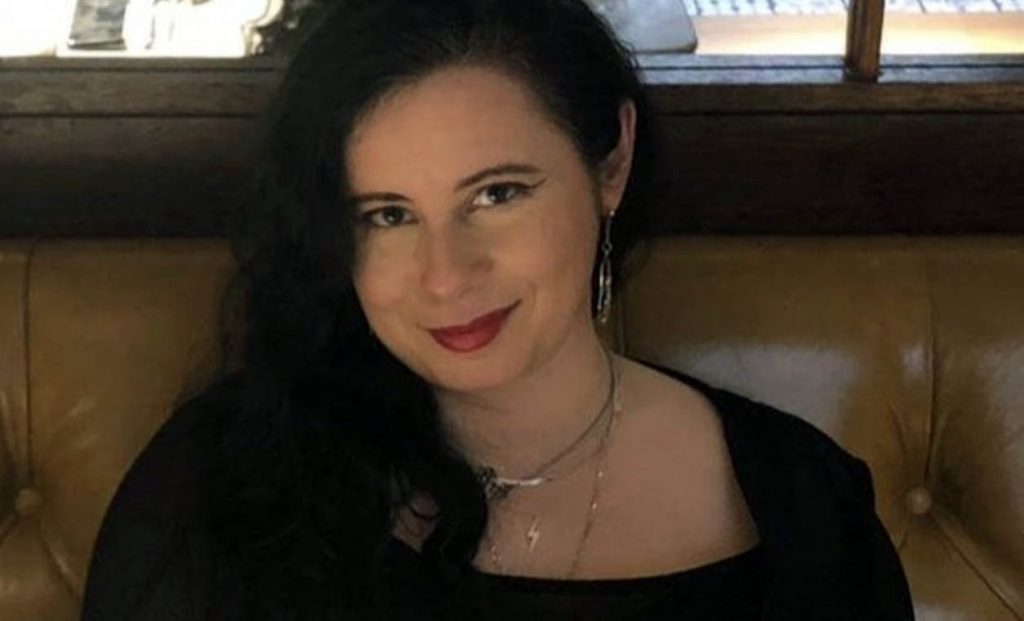 After her MA and PhD in Creative Writing, Rachel studied Teaching Creative Writing at the University of Cambridge (PGCert). She also qualified as a LAMDA Exams teacher in 2007 (LSDE). Before writing and coaching full-time, Rachel was a copywriter and subeditor for Telegraph Media Group, Transworld and HarveyNichols.com. She has directed and acted within various theatre and film and is a freelance writer and presenter appearing for Starburst Magazine's YouTube channel, Indicator Films and Green Ink Writers' Gym's "Write Through Lockdown". Rachel's short stories appear in a number of anthologies and her first collection, Beyond Glass,was published in May 2021. Her second will be delivered in August 2022. Her non-fiction includes Your Creative Writing Toolkit and the GCSE Drama Study & Revision Guide for Illuminate, part of Hodder Education.
Take Your Word-count for a Workout!
Almost all sessions currently meet on Zoom, so location is no barrier to being part of our writing community! Joining the Writers' Gym for a term membership of any of the courses below entitles you not only to your six-week writing course but to 20% off all 1:1 coaching and editorial support booked during your membership.
Each writer will have a minimum of two (entirely optional!) reading slots to present work-in progress for discussion and feedback. You will also be emailed full session content for any sessions you miss.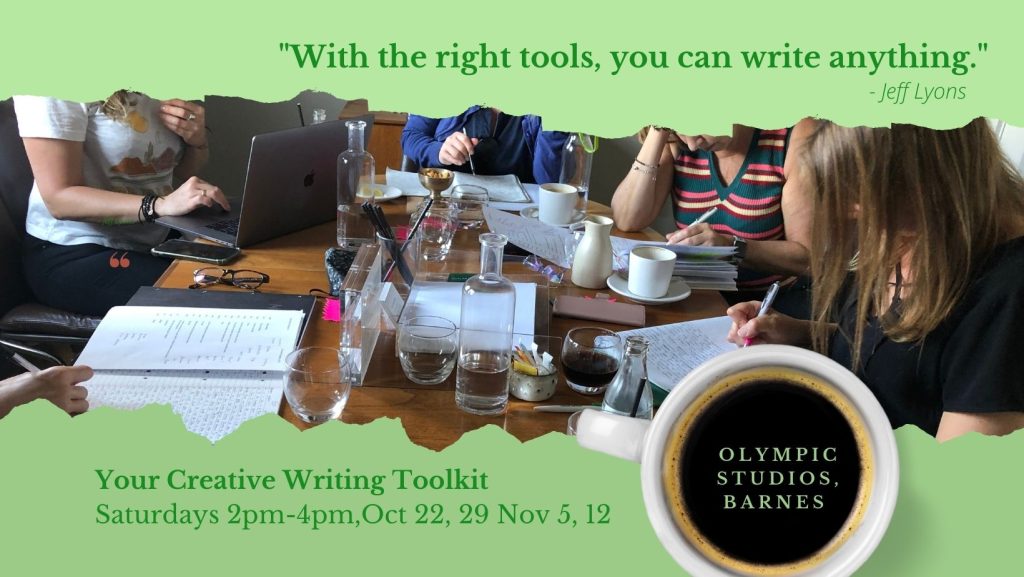 Coffee and creativity, time and space: weekend writing workouts to reignite your creative spark, hosted by fiction and non-fiction author and writing coach Dr Rachel Knightley.
Enjoy creative exercises, company and conversation – suitable for new and experienced writers alike! Excellent tea, coffee, drinks and snacks are available from the members' bar.
Each of the four weeks of this course focuses on mastering the essential tools to help your ideas flow free and let you explore your unique voice and stories. Your place on the course also includes a free copy of Your Creative Writing Toolkit by Rachel Knightley.
Week 1: Characterisation and Dialogue – introducing and exploring your characters, as the world sees them and as they are inside themselves.
Week 2: Setting amd Description – bringing your world to life with people, places and things as experienced by your characters.
Week 3: Point of View and Narrative Voice – experimenting with the different options and angles through which a story can be told, and trying them on to see which fit you and your story.
Week 4: Plot and Structure – enhance the relationship between the events in your story, to make full use of your characters and how the story grows in momentum as the characters grow in themselves.
Book here! FREE copy of YOUR CREATIVE WRITING TOOLKIT with each course place.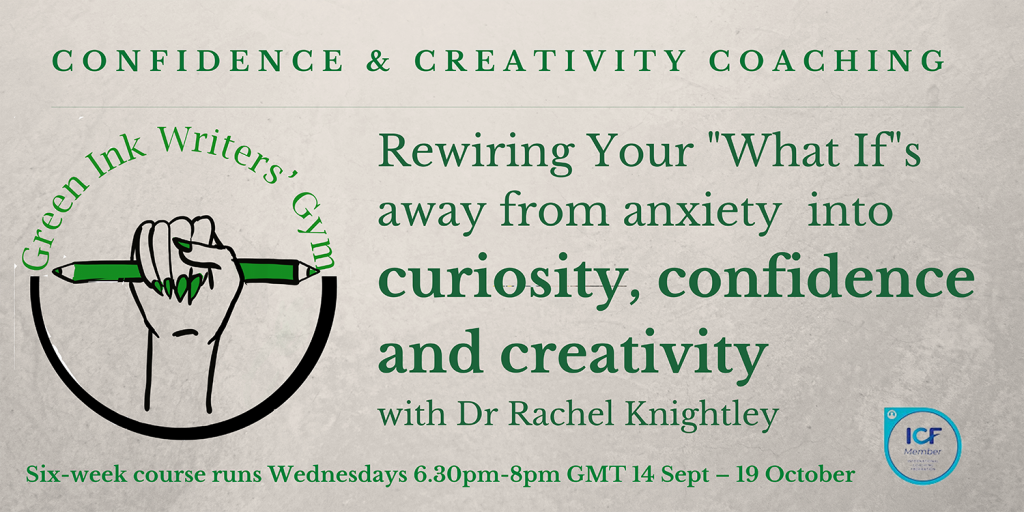 Rewire your "what if…" circuitry away from anxiety and towards engagement with your goals, values and personality. Each session will be a mix of practical coaching tools and creative exercises to get you more comfortable in your driving seat for art, work and life. Book now or read more below:
Week 1: Goal-setting
Sometimes a busy or stressful time means dealing with the 'immediate' in our lives constantly and the 'important' more rarely. This can mean what we want takes a back-seat to what we fear. Today is a chance to connect with each other, reconnect with ourselves and explore relaxing and intriguing coaching tools to focus on what you enjoy, love, value, and what steps can connect your wishes and hopes to your habits and goals for the work, art and life you want.
Week 2: Characterisation – in Life and Art!
Who are the characters that we carry in our minds, whose opinions, wishes and values affect our decision-making? Both in our fiction and day-to-day life, today is an opportunity to get to know those voices, ask what they want, and ask yourself whether you still want them as major or minor characters. Enjoy a mix of exercises to bring your own voice out of the chorus, and actively select which voices get to stay in your backing group!
Week 3: Plotting – The Story So Far
Today we explore the relationship between character and plot: how events create characters, but also how characters, as they change, change the world around them as a result. Enjoy a mix of practical exercises, story tools and problem-solving activities to make your story grow your way. These techniques will work for decisions on the page as well as those you make in work, at home and with family and friends.
Week 4: Time and Place
Today we'll look at what it means to feel present in your life and story, and how that sense of being present allows you to experience and utilise your time. Make un-rushed, value-centred choices about what you do, how and who you spend your time with and what you give space to in life and on the page. Explore and develop incisive questions for your unique story, on the page and off it!
Week 5: Freedom Not Fear: Approaching the Blank Page
When you are clear about your character's objective, it's much easier to know what dialogue and actions they will select. This is just as true in life as it is on the page or on the stage. Today, we'll be using tools, activities and resources to explore self-direction and value-aligned action. Bring "show don't tell" into your boundaries in work and life, and into the quality of your creative and professional writing.
Week 6: Moving Forward
A celebration and summary of the discoveries you've made in art, work and life. Requests welcome for any favourite exercises to revisit, as we honour the journeys so far and plan for what happens next. Looking back to goal-setting in week 1, what are the things that were important to you then and how are you going to keep the 'important' above water when the 'immediate' is all around?
Fully booked – new dates coming soon!

ENHANCE YOUR EDIT
Before your story goes out into the world, its first and most valuable editor is you, the writer. Whether you're beginng your first draft or polishing your manuscript for submission, this six-week course is the place to gain the tools and develop the techniques for maximum clarity in character, plot and message. Each course member has the option to read 2500 words of their work-in-progress, a minimum of two slots each per term.
Dr Rachel Knightley is an author, presenter and business and personal development coach. Rachel is currently completing her second collection of short stories, to be published by Black Shuck Books next year. She has presented for Starburst Magazine, Indicator Films and Green Ink Writers' Gym's Write Through Lockdown programme. Her non-fiction includes Your Creative Writing Toolkit (Green Ink Writers' Gym) and the GCSE Drama Study and Revision Guide (Illuminate/Hodder Education). She works with adults, teenagers and children in communication and performance – from confidence building, auditions and interview technique to fiction, memoir and speechwriting. She has a PGCert in Teaching Creative Writing from Cambridge University, a LAMDA Diploma in Speech and Drama Education and trained in Business and Personal Coaching with Barefoot Coaching.
1: What is good editing? Key healthy habits around writing, rewriting and editing; key self-sabotaging habits to look out for. How to clarify what is the 'heart' of the story you want to tell, and make decisions according to your central vision.
Week 2: Point of View – the reader's eye. The stability and effectiveness of the world you present is only as strong as your point of view is stable. Get to grips with point of view, what your options are, and how to edit it for maximum clarity of meaning and emotional connection.
Week 2: Description – setting not set-dressing! No matter how beautiful your description, what makes something significant is its relevancein the world where it takes place. Turn some exposition out of your character's head and write the events that caused the thoughts, so they can cause the feelings in your reader too.
Week 3: Dialogue and Action – real people, places and things Place and plot are only as real as the character inhabiting them. Show people, places and things through action, dialogue, facial and vocal expression, and how much detail is relevant and at what point you're in danger of overselling or overwhelming the reader.
Week 4: Plot: your character's domino effect! Build a synopsis so you can separate style from substance and make each work for the other. Identify the key events in your story and ensure causality for a satisfying conclusion.
Week 5: Structure: linear or non-linear? Does your story belong in chronological order? Depending on what you put first, your reader's opinions of characters and events will be greatly affected. Try out a new beginning and maybe a new ending, to make sure you make active decisions over which structure is best for you.
Week 6: Moving forward: A recap of the skills of each session of the course and a chance to apply them to your own work. Q&A on competitions, agents, publishers and ongoing skillsbuilding. (Your optional extra, to submit 2500 words for feedback, is due a week today.)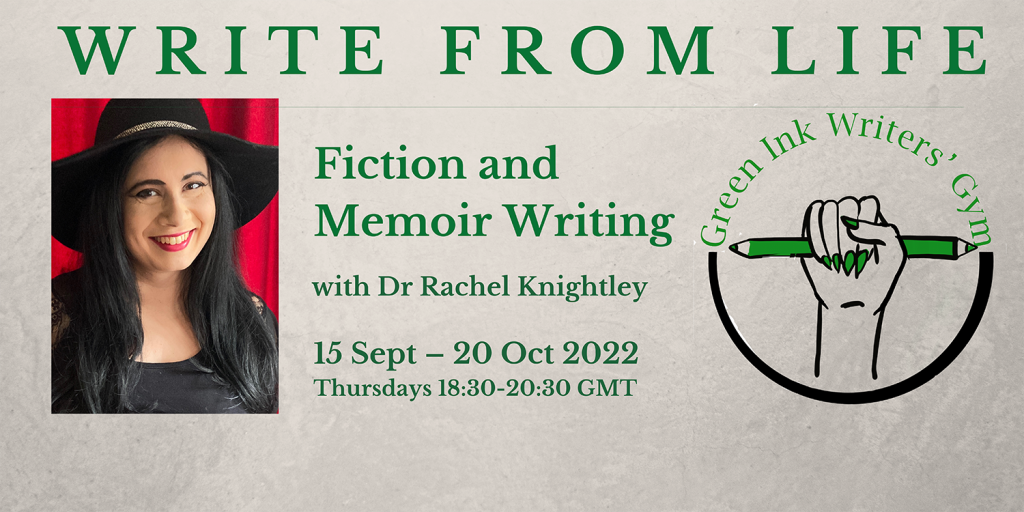 Week 1: Writing Mindset: Using Your Artist's Palette
Mastering access to the full range of memory and imagination that every writer mixes to create their unique voice and story. Exercises to liberate and encourage free movement around your thoughts, feelings and questions about the world all of which will inform your stories.
Week 2: Through These Eyes: Getting to Know Your Protagonist
Your central character is the reader's – and writer's – eyes and ears on the world. Whether they're based closely on you or not like you at all, this week's exercises and extracts will help you use your own life, thoughts and feelings as fuel to discover who they are and where they're taking the story.
Week 3: Raising Personal Stakes: Plot and Theme for Fiction and Memoir
What your story is about will be the essence of what your character has to face. Developing on what you've learnt about them, today we ask what's the worst thing that can happen to them, who they are (or want to be) and how do they grow by the events of the plot?
Week 4: Framing the Journey: Beginnings and Endings
The more you know about your characters, plot and theme, the freer you will be to decide how you want to present your story to your reader. Should it be chronological? Or is there a later event that, if revealed earlier, will ensure we're hooked? Explore different shapes and routes your story's journey could take.
Week 5: Short and Long Form: A Moment or a Process?
Today we'll explore the differences between short and long-form memoir and fiction. We'll use techniques to identify the key moment of change around which you can shape a compelling narrative through use of pace and momentum.
Week 6: Live Editing
Select an extract of your current work-in-progress to receive live editorial feedback. Today will be a tour of the process from conceptual discussions to how, when the time comes, you will work with an editor on line-editing.
How to Book for Write From Life: Sold out: Join waiting list
Package 1 – Six-Week Course Only
Package 2 – Six-Week Course with two 1:1 coaching sessions to bookend your course
Package 3 – Six-Week Course with two 1:1 coaching sessions to bookend your course, plus written feedback on up to 2500 words to be submitted by email in Week 6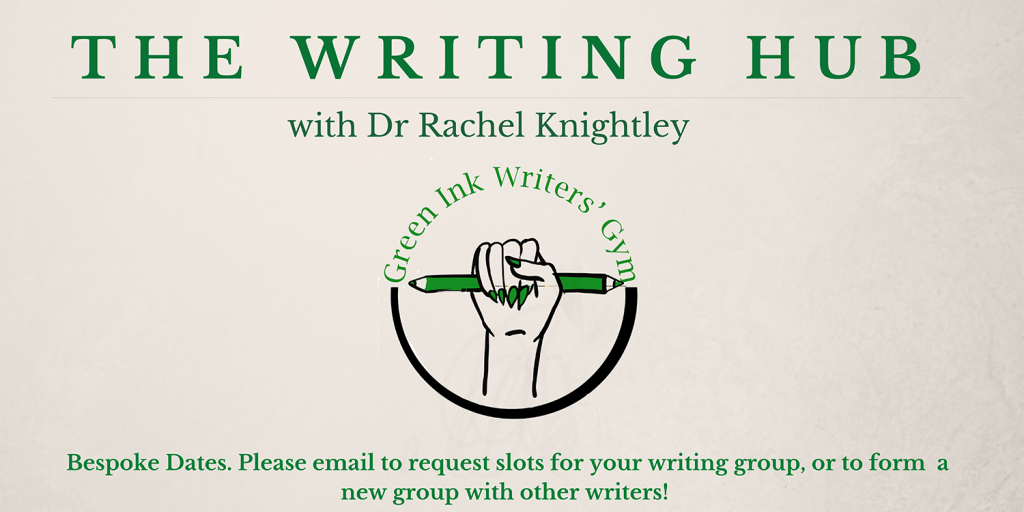 For a more bespoke service, with potential for even deeper feedback and exploration of literary devices, techniques, styles and objectives, join the Writers' Gym through your own Writing Hub. In-depth feedback on work-in-progress; exercises and analysis of literature relating to your voice and style. Identify and target suitable agents, competitions and publishers. Get in touch as an individual for existing dates, or as an existing writing group to book your dedicated course.
The Writing Hub: New dates coming soon! Email to register interest.