On Wednesday afternoon, just before the last Green Ink Writers' Gym workshop of term, I had an unexpected experience that reinforced for me why communication is the world's most transferable life skill.

I was going for a very small cap replacement with my dentist. I'd just had a "gold star" from my lovely dental hygienist and just needed the replacement that had been put off as non-urgent during lockdown and then again – because of just how non-urgent it was – but today was the day. I told my dentist I was nervous, because it helps to tell people. She was only trying to be helpful, but what she did was make the decision (without asking me) that the way to make me less nervous was maximum aesthetic. Actually, it isn't pain that makes me nervous – it's not knowing what's coming! In life as in the dentist chair, give me information about what's coming and I won't be scared anymore! But she made a different assumption, rather than asking for or giving it first. When the fairly short procedure was over she told me what she'd done. With only the left side of my mouth, I said I was supposed to be going back to work. She looked shocked, verging on terrified.

(I didn't mention I was a communication coach, as that would have felt a tad passive aggressive at that point!)

I had to postpone the private session I was due to coach that afternoon. My client was very understanding (people usually are when you fully communicate with them!). But the choice to postpone is never a great one for a freelancer and if I'd been given options I would have felt respected and in control, whatever option I picked. As it was, I moved my 1:1 coaching session then told my evening workshop group what had happened. The anaesthetic had mostly worn off, they'd probably not have noticed, but the option of communication shows them I trust and value them, and reassures me.

But here's why I'm glad it happened. It's an absolute reminder of why I do what I do. No matter your job, industry, age, background, career, strengths or goals, discovering how to ask the right questions of your clients, family and friends is the greatest life lesson and the shortest route to every goal.

And next time, maybe that dentist will offer options and information, and ask questions about what a patient is nervous of, so decide rather than assume what will help. That's the path from assumptions to empathy. And it's very good for business as well as personal life!Join Our Writing Community…
A Green Ink Writers' Gym term membership of any autumn course entitles you not only to your six-week writing course but to as many of our Zoom writing retreats and online socials as you like, as well as 20% off all 1:1 coaching and editorial support booked during your membership. Each writer will have a minimum of two reading slots to present work-in progress for discussion and feedback. You'll also be emailed full session content for any sessions you miss.
Week 1: Writing Mindset: Using Your Artist's Palette
Mastering access to the full range of memory and imagination that every writer mixes to create their unique voice and story. Exercises to liberate and encourage free movement around your thoughts, feelings and questions about the world all of which will inform your stories.Week 2: Through These Eyes: Getting to Know Your Protagonist
Your central character is the reader's – and writer's – eyes and ears on the world. Whether they're based closely on you or not like you at all, this week's exercises and extracts will help you use your own life, thoughts and feelings as fuel to discover who they are and where they're taking the story.Week 3: Raising Personal Stakes: Plot and Theme for Fiction and Memoir
What your story is about will be the essence of what your character has to face. Developing on what you've learnt about them, today we ask what's the worst thing that can happen to them, who they are (or want to be) and how do they grow by the events of the plot?Week 4: Framing the Journey: Beginnings and Endings
The more you know about your characters, plot and theme, the freer you will be to decide how you want to present your story to your reader. Should it be chronological? Or is there a later event that, if revealed earlier, will ensure we're hooked? Explore different shapes and routes your story's journey could take.Week 5: Short and Long Form: A Moment or a Process?
Today we'll explore the differences between short and long-form memoir and fiction. We'll use techniques to identify the key moment of change around which you can shape a compelling narrative through use of pace and momentum.Week 6: Live Editing
Select an extract of your current work-in-progress to receive live editorial feedback. Today will be a tour of the process from conceptual discussions to how, when the time comes, you will work with an editor on line-editing.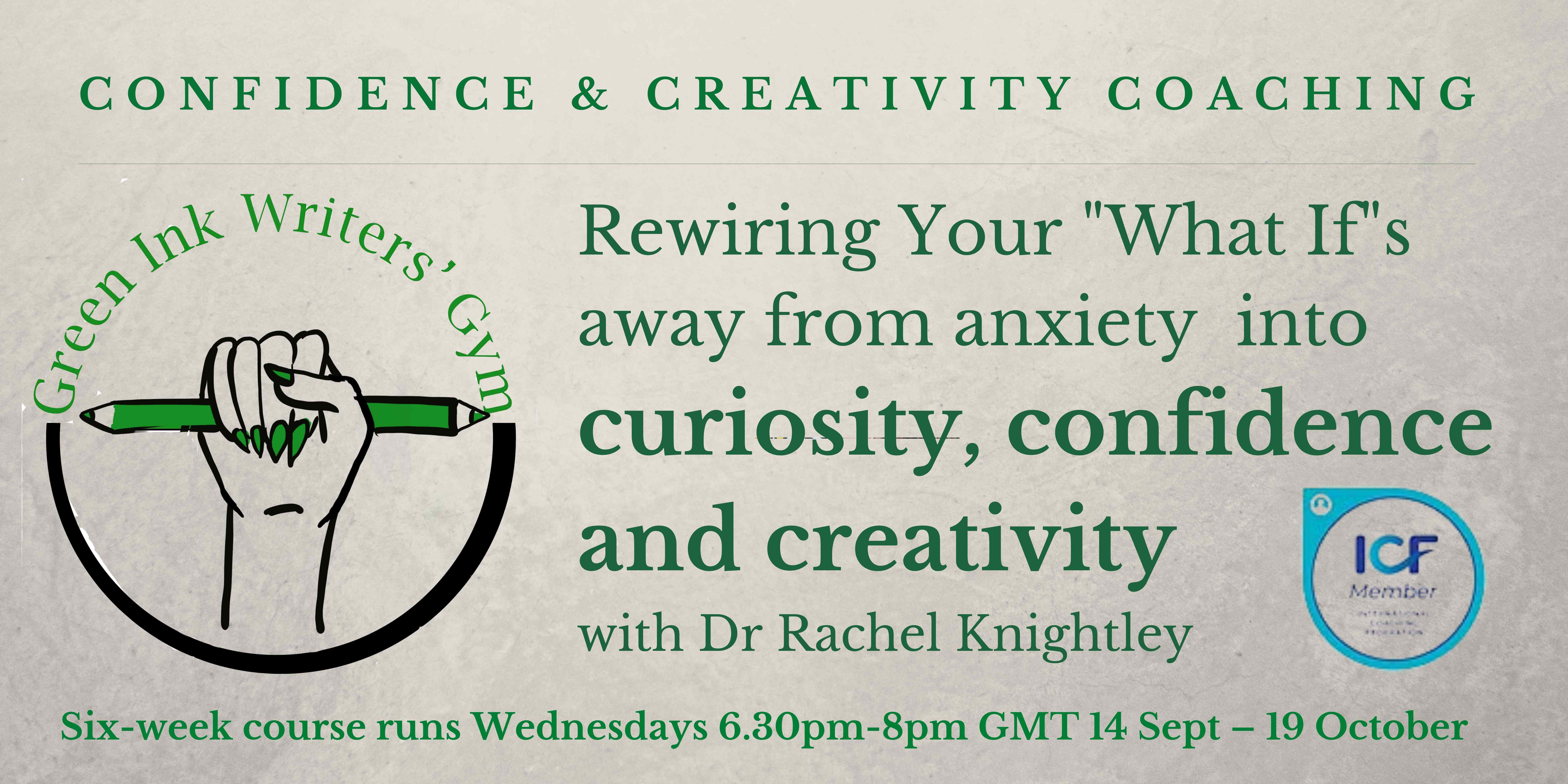 Rewire your "what if…" circuitry away from anxiety and towards engagement with your goals, values and personality. Each session will be a mix of practical coaching tools and creative exercises to get you more comfortable in your driving seat for art, work and life.Week 1: Goal-setting
Sometimes a busy or stressful time means dealing with the 'immediate' in our lives constantly and the 'important' more rarely. This can mean what we want takes a back-seat to what we fear. Today is a chance to connect with each other, reconnect with ourselves and explore relaxing and intriguing coaching tools to focus on what you enjoy, love, value, and what steps can connect your wishes and hopes to your habits and goals for the work, art and life you want. Week 2: Characterisation – in Life and Art!
Who are the characters that we carry in our minds, whose opinions, wishes and values affect our decision-making? Both in our fiction and day-to-day life, today is an opportunity to get to know those voices, ask what they want, and ask yourself whether you still want them as major or minor characters. Enjoy a mix of exercises to bring your own voice out of the chorus, and actively select which voices get to stay in your backing group! Week 3: Plotting – The Story So Far
Today we explore the relationship between character and plot: how events create characters, but also how characters, as they change, change the world around them as a result. Enjoy a mix of practical exercises, story tools and problem-solving activities to make your story grow your way. These techniques will work for decisions on the page as well as those you make in work, at home and with family and friends.Week 4: Time and Place
Today we'll look at what it means to feel present in your life and story, and how that sense of being present allows you to experience and utilise your time. Make un-rushed, value-centred choices about what you do, how and who you spend your time with and what you give space to in life and on the page. Explore and develop incisive questions for your unique story, on the page and off it!Week 5: Freedom Not Fear: Approaching the Blank Page
When you are clear about your character's objective, it's much easier to know what dialogue and actions they will select. This is just as true in life as it is on the page or on the stage. Today, we'll be using tools, activities and resources to explore self-direction and value-aligned action. Bring "show don't tell" into your boundaries in work and life, and into the quality of your creative and professional writing.Week 6: Moving Forward
A celebration and summary of the discoveries you've made in art, work and life. Requests welcome for any favourite exercises to revisit, as we honour the journeys so far and plan for what happens next. Looking back to goal-setting in week 1, what are the things that were important to you then and how are you going to keep the 'important' above water when the 'immediate' is all around?

To book for these courses, visit the Writers' Gym website or if you have any questions at all just let me know.You could even discuss your goals and wishes over a free 30-minute Zoom chat. I'd love to support you achieving your goals in life, work and art alike.