[ AUGUST RECOMMENDED READING!
Catch me being interviewed in the new Black Shuck Books newsletter about my new collection of short stories, coming 2023, and about this year's Green Ink Sponsored Write for Macmillan Cancer Support. ]


Anybody reading this who's written anything, ever – from a letter to a shopping list, let alone a book – already knows achieving an 85,000 word-count doesn't mean 'reaching' 85,00 perfect words in their perfect order, falling freely from brain to page.

It means writing way more words than that, cutting them down, rewriting them as other, shorter, better routes to what you see and mean in your head, that you'd never have found without getting it out of your head and onto the pages in the first place. It's a spiral, not a circle: you're always getting closer to the truest form of the thing in your mind. But it's a journey you need to enjoy for its own sake, and not get too fixated on the destination. Much like life off the page, if you wait for it to be perfect before you celebrate it, you'll be missing a lot of the best bits.

So, was I up to 85,000 when my friend took this picture over cocktails last week? NO, no I was not! But will I be handing more, and better, in as a result on 31 August? YES! Yes, I will! Because I will get there. Because, rather than only 'reward' myself with time out, I'm 'fuelling' myself with time out. I wouldn't be the writing coach, or the writer, I am if I didn't keep an eye on the emotional fuel gauge as well as on the horizon – that's my job whoever my coachee is, including when it is myself. That way, when I come back to the desk, it will be with clearer, calmer eyes. And when I hand the stories in, they will be good enough. Not perfect. Never perfect. Not ready for publication, even. Because that's when my editor and I start making them even better.

Because nothing we've ever read and loved was ever done completely alone, and we don't need to burn out in order to shine. Nor do we need to find out if it's all okay before we celebrate the journey. It will be okay. It probably already is.
Green Ink Writers' Gym students will be joining bestselling, award-winning authors Sophie Hannah, Jennifer Steil, Charlotte Bond and many, many more for a day of sponsored writing fundraising for Macmillan Cancer Support. I will be writing in memory of my friend Sophie Porter, grandfather Abraham Banks and uncles David and Jeremy Banks.

When you donate to Macmillan through our Justgiving page, every penny goes the charity and you'll receive a world-exclusive anthology of new stories from the writers. BUT the anthology and the page are only available until the end of the writing day! Please help us help Macmillan Cancer Support, here.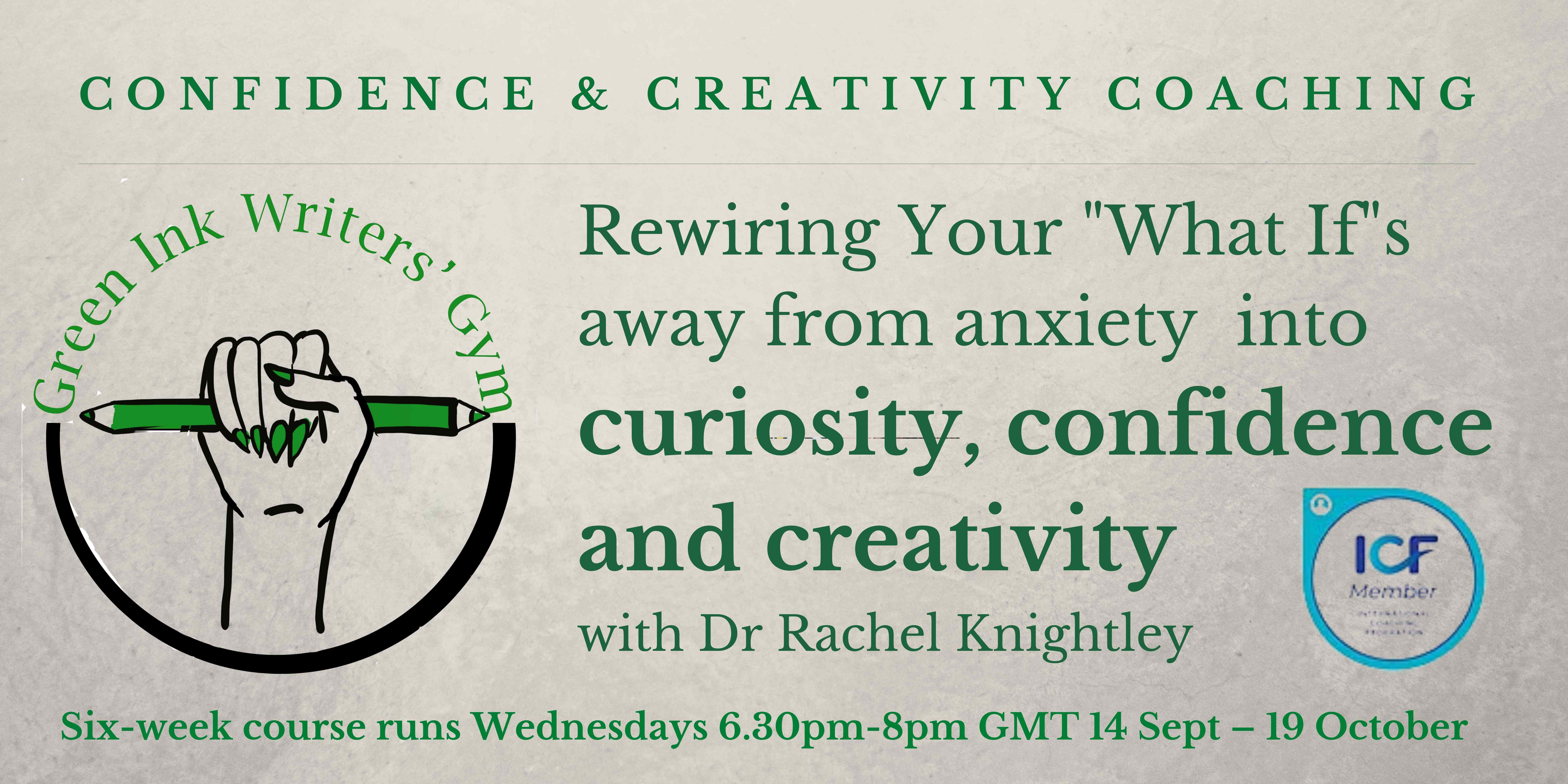 Is someone you know looking to build confidence and clarity in their life, work and art this autumn?

Rewire your "what if…" circuitry away from anxiety and towards engagement with your goals, values and personality. Each session will be a mix of practical coaching tools and creative exercises to get you more comfortable in your driving seat for art, work and life.Week 1: Goal-setting
Sometimes a busy or stressful time means dealing with the 'immediate' in our lives constantly and the 'important' more rarely. This can mean what we want takes a back-seat to what we fear. Today is a chance to connect with each other, reconnect with ourselves and explore relaxing and intriguing coaching tools to focus on what you enjoy, love, value, and what steps can connect your wishes and hopes to your habits and goals for the work, art and life you want. Week 2: Characterisation – in Life and Art!
Who are the characters that we carry in our minds, whose opinions, wishes and values affect our decision-making? Both in our fiction and day-to-day life, today is an opportunity to get to know those voices, ask what they want, and ask yourself whether you still want them as major or minor characters. Enjoy a mix of exercises to bring your own voice out of the chorus, and actively select which voices get to stay in your backing group! Week 3: Plotting – The Story So Far
Today we explore the relationship between character and plot: how events create characters, but also how characters, as they change, change the world around them as a result. Enjoy a mix of practical exercises, story tools and problem-solving activities to make your story grow your way. These techniques will work for decisions on the page as well as those you make in work, at home and with family and friends.Week 4: Time and Place
Today we'll look at what it means to feel present in your life and story, and how that sense of being present allows you to experience and utilise your time. Make un-rushed, value-centred choices about what you do, how and who you spend your time with and what you give space to in life and on the page. Explore and develop incisive questions for your unique story, on the page and off it!Week 5: Freedom Not Fear: Approaching the Blank Page
When you are clear about your character's objective, it's much easier to know what dialogue and actions they will select. This is just as true in life as it is on the page or on the stage. Today, we'll be using tools, activities and resources to explore self-direction and value-aligned action. Bring "show don't tell" into your boundaries in work and life, and into the quality of your creative and professional writing.Week 6: Moving Forward
A celebration and summary of the discoveries you've made in art, work and life. Requests welcome for any favourite exercises to revisit, as we honour the journeys so far and plan for what happens next. Looking back to goal-setting in week 1, what are the things that were important to you then and how are you going to keep the 'important' above water when the 'immediate' is all around?
Book your course or package here.
On the page, in conversation, from email to switchboard to boardroom to treading the boards, clear and confident communication are the world's most transferable skills. Coaching is a confidential, supportive space to clarify and discover what you want and how to align your choices to your goals. If you want to celebrate who you are and what you mean, I'd love to support you.

All the best,

Rachel

Dr Rachel Knightley
www.RachelKnightley.comYour Writing and Coaching Community
Membership of any autumn course entitles you not only to your six-week writing course but to as many of our Zoom writing retreats and online socials as you like, as well as 20% off all 1:1 coaching and editorial support booked during your membership. Each writer will have a minimum of two reading slots to present work-in progress for discussion and feedback. You'll also be emailed full session content for any sessions you miss. Enquire here…